We will be happy to process your enquiry immediately and send you suitable information.
Your Own Exclusive Event at TIPI AM KANZLERAMT
In the language of the Dakota Indians "Ti" means to live and "Pi" means to use. We have taken these two functions into our hearts. Our guests, whether artist or member of the audience, should feel at home and also feel welcome to use all aspects and options provided by our TIPI AM KANZLERAMT.
Be our guest or be the host of your own event at TIPI AM KANZLERAMT. Our festive marquee is available for exclusive events and is equally attractive to small and large groups thanks to its variable room layout.
The theatre marquee, with its large stage and inviting bar, offers the perfect setting for a successful event. The special infrastructure of TIPI AM KANZLERAMT makes it an ideal and unusual location for parties, company anniversaries, award-giving ceremonies, product presentations, incentives and daytime events. In addition to the main marquee, we also have other rooms that can be used for events.

Our large foyer is perfect for receptions of all kinds, while our two comfortable lounges provide space for more intimate events, for meetings or individual receptions. In good weather, it is also possible to organise part of your event outdoors. We have two terraces with a wonderful view of the Chancellor's office, as well as our own beer garden. Whether a classic Prosecco reception, freshly mixed cocktails in a pleasant summer atmosphere or suckling pig barbequed on a spit – everything is possible. (A tip from us – surprise your guests with a small Christmas market in our beer garden on cold winter days). And you can even celebrate, dance and have fun at our location into the wee hours of the morning.
Our technical equipment meets the most modern requirements and we are a reliable partner with many years of experience in the conceptualisation, organisation and realisation of exclusive events. Our professional know-how, our friendly and perfect service, a fresh cuisine and the stimulating, pleasant atmosphere make an evening at TIPI AM KANZLERAMT a sure success.
Whether virtually or live – visit the TIPI AM KANZLERAMT as an event location and find out for yourself about the high flexibility of the premises.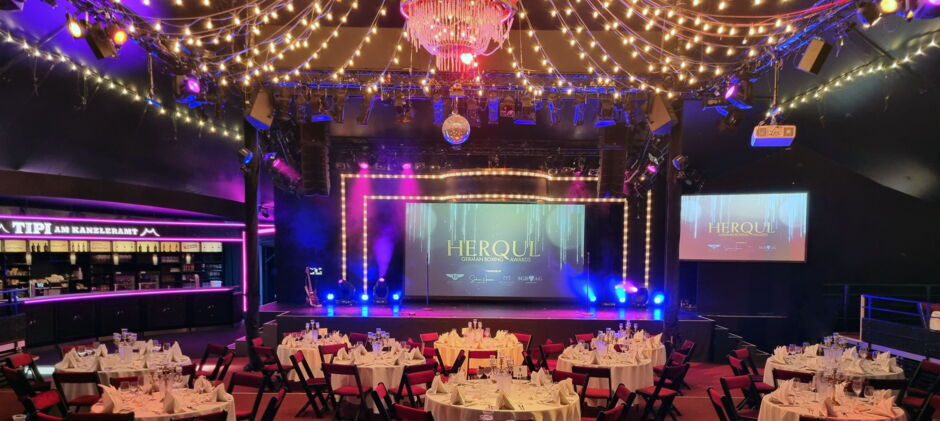 Capacity
Foyer 300 m²
Internal space 800 m²
2 Lounges: 36 m²
Terraces: à 40 m² and 115 m²
Beer garden: ca. 160 seats, 380 m²
Seating
Parliamentary seating for 300 guests
Banquet seating for 500 guests
Theatre seating for 600 guests
Stand-up reception for 800 guests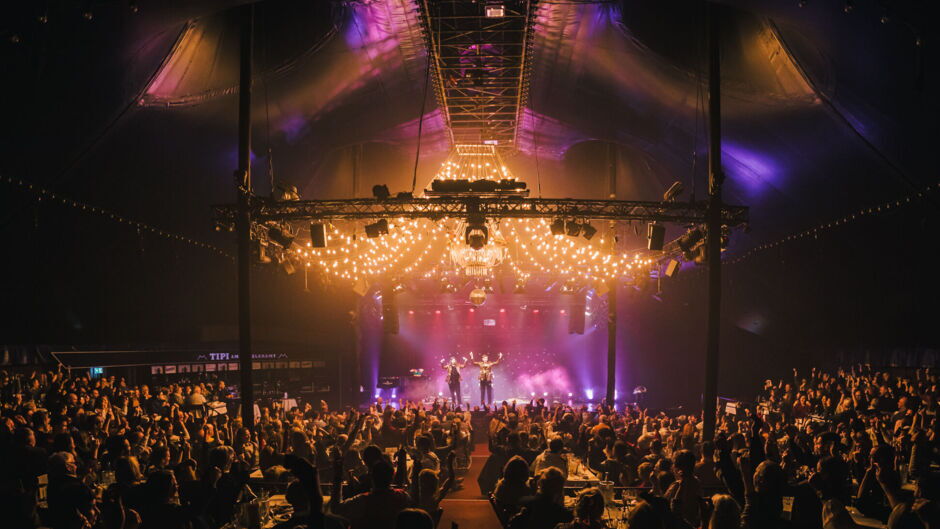 National and international artists for your show programme
Through our close contacts with renowned national and international artists from the genres of chanson, show, comedy and vaudeville, we offer you multi-faceted entertainment. We can create a suitable artistic setting for any event. Up to eight weeks before the event date, the current production can usually be cancelled without a cancellation fee. You can then bring in your own artists or we can put together an extraordinary and individual programme based on your ideas.
Our programme overview contains a lot of additional information, the show programme for the coming months, texts and trailers for a possible presentation.
CABARET – The Berlin Musical
The legendary CABARET production by the American star choreographer and director Vincent Paterson was first seen at the BAR JEDER VERNUNFT and since 2010 at the TIPI AM KANZLERAMT. This is not only a record for the two theatres, but it is also the longest-running production of the Berlin musical in the German-speaking world! Over 300,000 visitors have so far been taken away to 1920s Berlin and the world-famous Kit Kat Klub...
"Willkommen, Bienvenue, Welcome", "Maybe this Time", "Mein Herr", "Life is a Cabaret" are now world classics of music history. Visit our CABARET- Das Berlin-Musical page for more information about the musical.

You will not only be wonderfully entertained in both marquees, the cuisine provided by the in-house catering teams at TIPI AM KANZLERAMT and BAR JEDER VERNUNFT will leave you wanting for nothing. From finger food to a several-course menu, let yourself be spoiled by our two head chefs and their perfectly coordinated teams.
We offer you and your guests a wide range of Lucullian delights, either as a buffet, a barbeque in our beer garden or a several-course menu and the serving style is individually adapted to meet your wishes.
Our catering team only work with fresh and seasonal products and our head chef is more than happy to provide you with selected menu proposals for your event. Special requests are not a problem and we cater to all tastes and wishes, for example, kosher, vegetarian or vegan. The wide range we offer is complimented by a selected choice of wines, rounding off the perfect culinary experience. Our staff are only happy to provide you with professional advice when choosing your wines.
As a well-coordinated team, we integrate our catering services perfectly into your event.
Impressions TIPI AM KANZLERAMT
More impressions of award ceremonies at the TIPI AM KANZLERAMT
---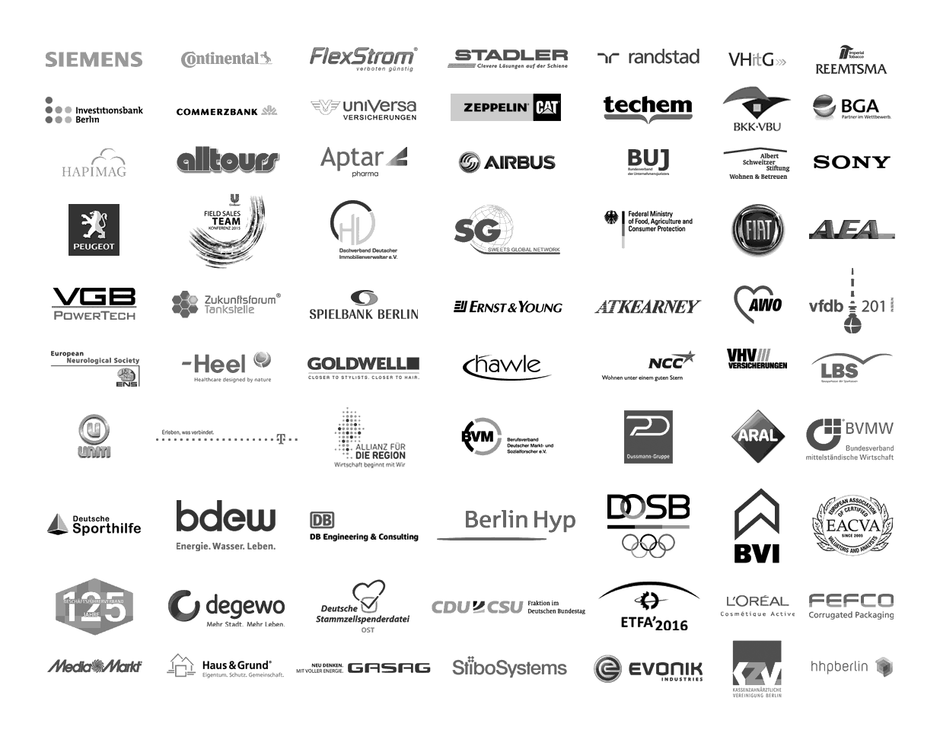 We plan your event together with you and adapt the evening at the TIPI AM KANZLERAMT to your individual wishes and requirements. You can reach us Monday to Friday from 10:00 to 18:00 and we will be happy to show you the event rooms without obligation.
Tom Ernst
Phone: + 49 30 390 665 56
email: t.ernst@tipi-am-kanzleramt.de
Send request