Entertainment in a pleasant atmosphere along with a high-quality, fresh cuisine to satisfy all appetites. Enjoy the luxury of being spoiled and let us take care of all your wishes in our very special marquee theater! Our food is made fresh each day and of the finest local and seasonal products. Our selection of beverages includes a wide choice of alcoholic and non-alcoholic drinks.

For example, enjoy a Berliner Pilsener beer on tap or a classic prosecco. Our wine list provides something for every taste. The seasonally changing menus are complemented by an excellent wine list. You can dine before the performance, or simply enjoy a pre-theater drink.
Little Dishes
Berlin lentin stew
€6,50
optionally with bacon and Vienna sausage
€7,50
Oven-baked cheese, with olives and bread
€9,50
A selection of cheeses served with bread and butter
€12,00
A variety of Pumpernickel canapés, topped deliciously with cheese, Black Forest ham and smoked salmon
€11,50
Crisp romaine lettuce with classic Caesar dressing
€9,50
optionally served with marinated chicken breast
€12,50

Main Dishes
Potatoes boiled in their skin with herb quark and cucumber salad
€11,50
optionally served with pickled egg
€12,50
Cabbage roll with apple & potato purée and fried onion rings
€16,50

"Wiener Schnitzel" with lukewarm potato & bacon salad
€18,50
Fried cod with savoy cabbage & pearl barley risotto
€17,00
Sweet
Vanilla Swiss roll with homemade plum & cinnamon granita
€7,50
---
If you have any food allergies, please ask our service staff for more information.
In respect for the artists on stage, we do not serve during the show and kindly ask you to give your orders to our waiting team about 15 minutes before the performance begins.

Champagne Seats
Treat yourself to some TIPI AM KANZLERAMT luxury and celebrate in style with a bottle of champagne at candlelight.
€63,00 max. 6 persons
Pasta Italiana
A glass (0,2l) of red or white wine or one bottle of mineral water with Pasta Vegetariana Italiana.
€18,50per person
Not bookable from February 01 to March 31 · July 12 to September 15, 2019

Wine but Fine
A glass (0,2 l) of red or white wine or one bottle of mineral water with grilled cheese, bread and olives
€15,50 per person

Not bookable from February 01 to March 31 · July 12 to September 15, 2019
---
You can book culinary packages (subject to availability) up to one day before a show directly at the box office or via our ticket hotline on 030.390 665 50. In addition to the packages, we also offer the option of choosing from our current menu on the evening. However, in such cases it is not possible to reserve a specific table.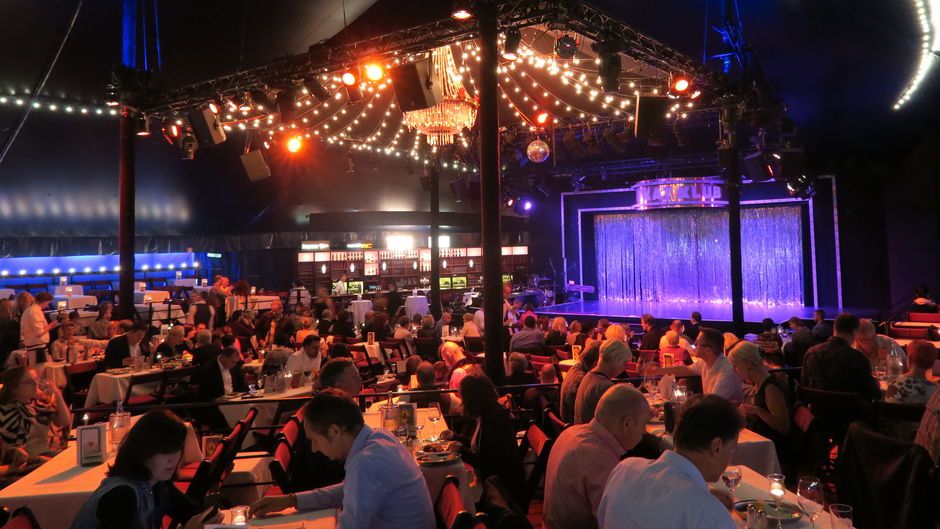 We serve the starter and the main dish before the show, and dessert during intermission. To enjoy your food in a relaxed atmosphere and with plenty of time, please ensure that you arrive at TIPI at 6:30 pm (on Sundays at 5:30 pm). We will start serving the food around 6:45 pm (on Sundays at 5:45 pm).
You can book the menus via our ticket hotline at + 49 30 390 665 50 or at the theater until one day before the performance at the latest.

---
Endive salad with sautéed mushrooms orange fillets and walnuts
Königsberger Klöpse (German meatballs), mashed potatoes and beetroot salad with parsley
Vegetarian option:
Beetroot schnitzel on mashed potatoes served with a wild herb salad

"Berliner Luft" - Lemon cream with raspberry sauce
---
---
Yellow pea soup with bacon and fresh marjoram

Savoy cabbage roulade with parsley potatoes

Vegetarian option:
Finferli pasta with bell pepper caponata and roasted hazelnuts
Chocolate and biscuit layered dessert with cherry sago compote

---
---
Cream of asparagus with tarragon oil
Brandenburg asparagus with slices of veal, parsley potatoes and homemade sauce Hollandaise
Vegetarian option:
White Brandenburg asparagus and baked green asparagus with parsley potatoes and homemade sauce Hollandaise

Rhubarb compote with oat crumbleand woodruff cream
---
---
Salad of fresh chanterelles, cherry tomatoes, wild herbs and parmesan

Fried breast of chicken in tarragon stock with gnocchi

Vegetarian option:
Gnocchi in a spicy courgette & corn ragout
Banana bread with raspberry coulis

---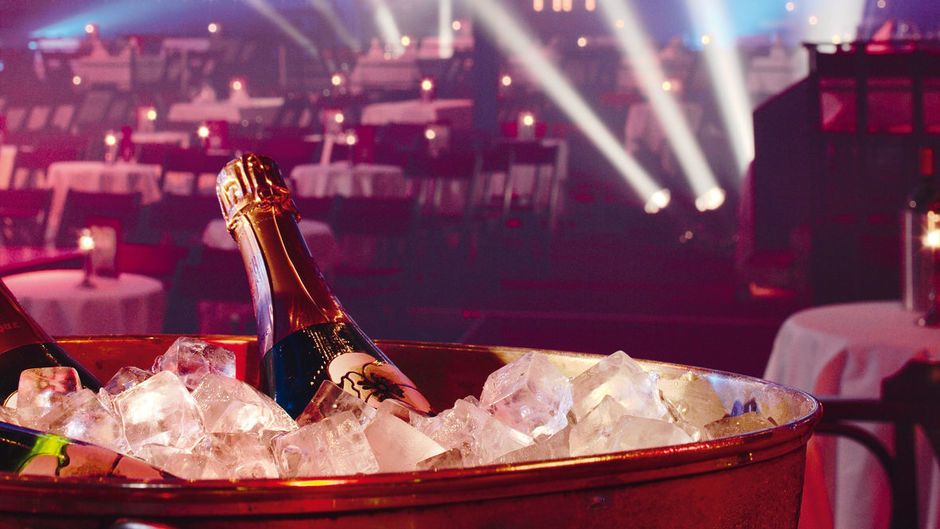 Our extensive list of beverages offers you a variety of options ranging from wine by the glass and bottles to Crémant and Champagne or seasonal refreshments. Or enjoy a Berlin Pilsner beer.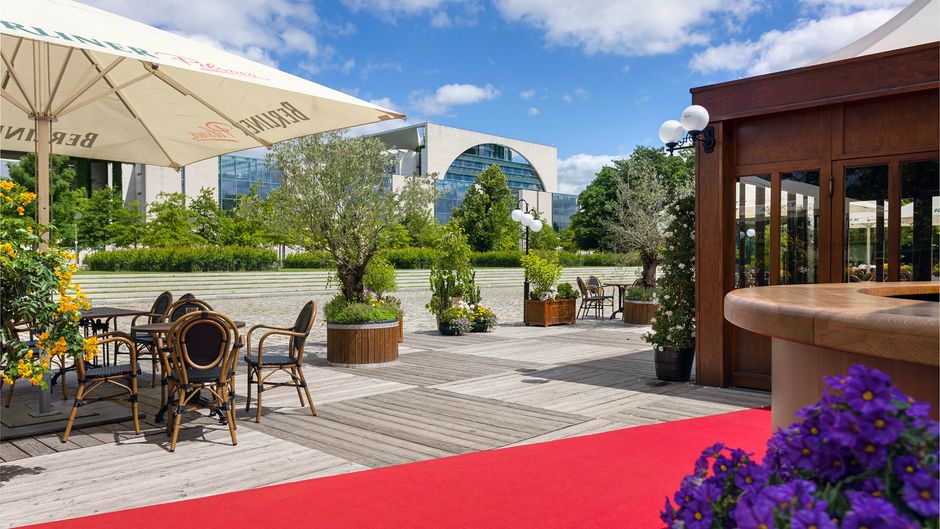 Enjoy an impressive view of the chancellery. Wether before the show, during the interval or on a warm night after the show – our beer garden with its pleasant atmosphere is the perfect place to have a pre-theater drink or to enjoy a meal from our delicious menu surrounded by the green Tiergarten.
Our beer garden is open in summertime: Tuesday – Saturday from 5:30 pm and Sundays from 4:30 pm.