July 02 to Sept 26, 2021
TIPI AM KANZLERAMT presents:
CABARET

The Berlin-Musical
Where it really happened
Welcome to the Kit Kat Club right next to the Chancellor's office! The TIPI AM KANZLERAMT becomes a cabaret, hosting the world-famous musical about life, passion and despair in Berlin under the darkening skies of approaching fascism.
Based on true events and real lives, CABARET portrays the experiences of the English writer Christopher Isherwood, who lived in the Berlin district of Schöneberg from 1929 to 1933, making real life the source of this highly sensual theatrical experience.
The story of the carefree nightclub-singer Sally Bowles in the glittering yet shady milieu of the Golden Twenties immortalised the city of Berlin as the city of historical fractures, caught between glamour and the gutter, between dreams and despair.
This production of CABARET is the work of director and star choreographer Vincent Paterson, who has developed choreographies for Madonna and Michael Jackson as well as for Lars von Trier's Dancer in The Dark.
Please note that the dialogues are in German language.
---
Director and choreographer: Vincent Paterson
Associate for Vincent Paterson: Mette Berggreen
Script by Joe Masteroff – after the play "I am a Camera" by John van Druten and the stories by Christopher Isherwood
Music by John Kander - Song lyrics by Fred Ebb - German texts by Robert Gilbert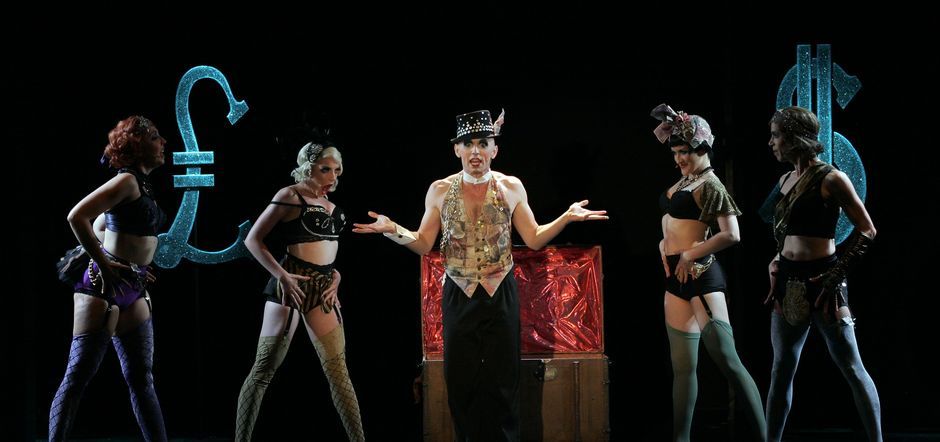 ---
Band
Piano / toy piano / accordion: Damian Omansen (musical direction)
Violin / singing saw / sailor: Dragan Radosavievich · Christian Runge
Trombone / steel guitar: Daniel Busch · Christian Fischer · Friedrich Milz
Double bass / tuba / triangle: Björn Sickert
Drums / glockenspiel / sailor: Caspar Hachfeld · Julian Kirchmer
In the year 1929 the young American writer Clifford Bradshaw arrives in Berlin, searching for material for his novel. He rents a cheap room in Fräulein Schneider's boarding house and spends New Year's Eve in the Kit Kat Club, upon Ernst-Ludwig's invitation, an acquaintance he made during his journey.
The Kit Kat Club is one of the many temples to pleasure that Berlin had to offer in the 1920s. A place for longings of every kind, where you could live for a moment in the utopia of erotic and political freedom. In the darkness, the faded filament bulbs of the Cabaret turn into a glamorous lustre, which sucks in the restless night wanderers of the metropolis in its glaring red gullet.
Here, a louche MC introduces the attraction of the evening: Fräulein Sally Bowles, an English night club singer. Sally and Cliff quickly get to know one another in the permissive, relaxed atmosphere of the club. She is looking for a place to stay, he is looking for an aim in life and already on the following day she moves in with him – disregarding his views on the matter.
The friendly fruit merchant Herr Shultz also lives in Fräulein Schneider's boarding house and spoils his landlady with exotic fruit. Just as their tender love story leads to an engagement, Herr Schultz, a Jew, is for the first time confronted with the hatred of the emerging Nazi movement: resigned and afraid, Fräulein Schneider makes a difficult decision regarding their forthcoming wedding ...
Cliff is appalled at the burgeoning Fascism and wants to leave Berlin as soon as possible, with the now pregnant Sally. But, just like the shrill, cynical MC, Sally is uninterested in politics – for her, life is only a Cabaret.
One is travelling through, in flight, in constant fear, and so in the end each packs his bags. Sally gives away her fur coat to pay for an abortion, and returns to the Kit Kat Club. And Cliff, shortly before the Nazis come to power, leaves Berlin. No one as yet knows where the journey will lead to ...
Life is a musical – the most impressive advert for Berlin there has ever been.
Risqué, funny, brilliant! The musical 'Cabaret', after Christopher Isherwood, is back with a bang!
Vincent Paterson's production of "Cabaret" takes Kander & Ebb tuner back home to Berlin Cabaret, the famed Bar jeder Vernunft.
Berlin says willkommen as Cabaret comes home!
This 'Cabaret' is worth the journey.
Prices
PG I
Su-Th €54,50 · Fr-Sa €59,50
PG II
Su-Th €44,50 · Fr-Sa €49,50
PG III
Su-Th €34,50 · Fr-Sa €39,50
PG IV
Tu-Su €20,00
Discount €20,00
There is no advance booking fee at the box office.
CABARET offer
Experience the musical and also make your evening a pleasure. We offer you a 2-course menu, a hotel package and early booking discounts.
Your visit
Admission and catering start one and a half hours before the show starts.
Booking of a certain table in price category I, II and III with free choice of seats at the table. Free choice of seats in price category IV. Please note that the earlier you come the more choice you have.
It is possible to reserve a table if you make a booking to eat. You can book a set menu or other items via our ticket hotline at + 49 30 390 665 50 or at the theater until one day before the performance at the latest.
As changes may occur to the performance schedule at short notice, please check our calendar.
Please note that children are only permitted from the age of 12.
Upon entering the venue, you assign your rights to any sound and image recordings of your person, free of charge and without any spatial restrictions.