December 15, 2018
Carrington-Brown

10
Music & Comedy
Rebecca Carrington and Colin Brown, the music comedy duo and winners of multiple awards, have a lot to celebrate: They've been on stage together for ten years, they've both been living and working in Germany for ten years, and they've been happily married to one another for ten years. What better to do than to put on a new show, and celebrate this anniversary year by simply calling it "10"?

At its 235 years of age, Rebecca's cello Joe would probably smile wryly if only it could – yet in ten years together, they gathered many great and exciting but also ordinary stories and experiences of everyday life, which beg to be told in the uniquely witty and brilliant style of Carrington-Brown.

Together with Joe's centuries of experience and supported by some younger guest instruments, "10" promises to be a real feast – with some new own compositions, some new quirky versions of well-known hits and with fabulous costumes. Bizarre in a typically British way and yet so familiar ... Cheers to Carrington-Brown's "10"!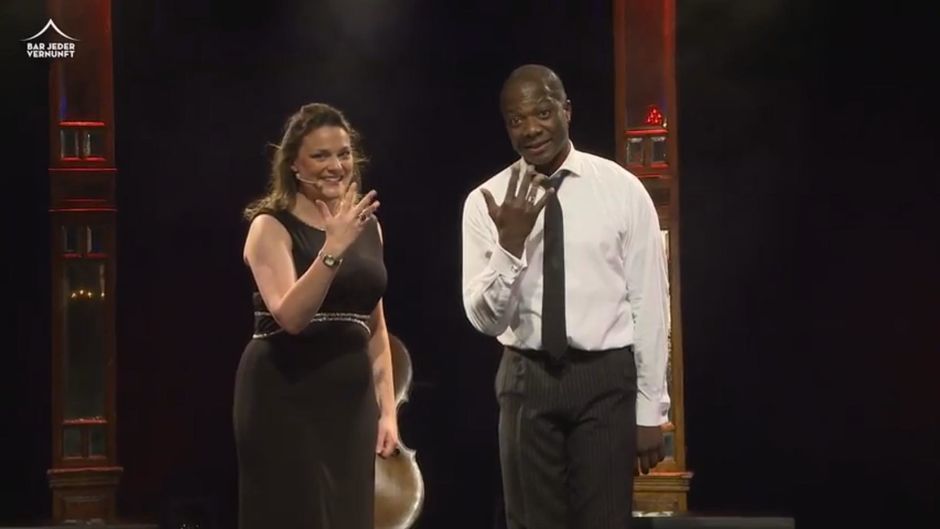 ---
Admission and restaurant opens Monday - Saturday from 6:30 pm / Sundays from 5:30 pm.
You are free to choose your own seating within the relevant price categories. Arriving early ensures a higher availability of seating to choose from.
It is possible to reserve a table if you make a booking to eat. You can book a set menu or other items via our ticket hotline at + 49 30 390 665 50 or at the theater until one day before the performance at the latest.
As changes may occur to the performance schedule at short notice, please check our calendar.
Please note that children are only permitted from the age of 6.
Upon entering the venue, you assign your rights to any sound and image recordings of your person, free of charge and without any spatial restrictions.

Prices
From €32,00 to €40,00
Discount* depending on the price category:
€12,50 | €14,50 | €16,50

There is no advance booking fee at the box office.

Reviews
An extraordinarily talented threesome (…) virtuoso music, British humour and cheeky ideas."