November 17 & 18, 2020
Carrington-Brown

TURNADOT
Eine Brexit-Operette
Rebecca Carrington and Colin Brown have come up with a turbulent operetta that not only examines the hair-raising motives in the ancient Persian tale, but also takes a tongue-in-cheek look at current European politics.
Sometimes nothing happens for decades, and then an entire century passes in a week! This is the fate suffered by cellist Carrie Puddleton and the singer Lawrence Longstaff, the only two members of the Royal Imperial Victorian Opera Company from good old England who have managed to reach continental Europe before their ship finally sinks.
And now the two of them have to perform Puccini's great opera "Turandot" on their own. An impossible task, during which quite a few things go horribly wrong. The not only misspell the name of the title figure, but also get a few strands of the plot mixed up. Strangely though, the story becomes increasingly contemporary because of this. Doesn't Turandot's dog bark in a way very reminiscent of a former English minister? And does the man-murdering queen staggering about in the fog of British sensibilities not seem very familiar? The question here is not "To be or not to be", but rather "Should I stay or should I go"!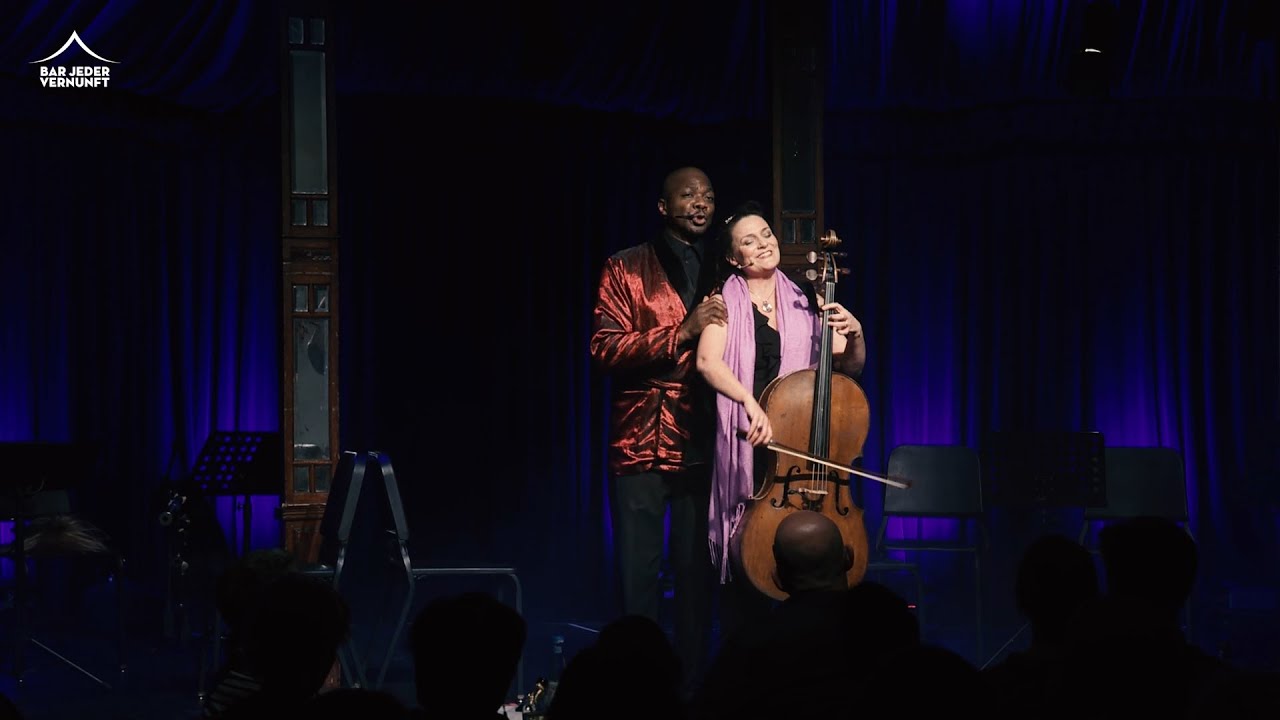 Rebecca Carrington: violoncello & more
Colin Brown: vocals & more
Rebecca Carrington, Olaf Taranczewski, Colin Brown: music
Rebecca Carrington, Colin Brown,Simon Callow, Anneke Janssen, Olaf Taranczewski & Arthur Büscher: text
Arthur Büscher & Frederic Zipperlin: Director & Choreographer
---
Admission and restaurant opens Monday - Saturday from 6:30 pm / Sundays from 5:30 pm.
You can book a set menu or other items via our ticket hotline at + 49 30 390 665 50 or at the theater until one day before the performance at the latest.
As changes may occur to the performance schedule at short notice, please check our calendar.
Please note that children are only permitted from the age of 6.
Upon entering the venue, you assign your rights to any sound and image recordings of your person, free of charge and without any spatial restrictions.
Ticket Purchasing Information
Tickets for canceled shows (from March 13th to September 3rd) remain valid. For a smooth rebooking of your tickets, we will contact you.
prices
From €34,90 to €47,90
Discount depending on the price category:
€12,50 | €14,50 | €16,50
There is no advance booking fee at the box office.

Commissioned by