October 27 & 28, 2018
Berlin Premiere
The Umbilical Brothers

The Best of the Worst of the Best of The Umbilical Brothers
Physical Comedy
With their insanely funny mix of comedy, sound, pantomime, puppetry, acting, agility and wild fun, The Umbilical Brothers are Australia's biggest comedy export.
Named by "Entertainment Weekly" as two of the "100 most creative people in the entertainment industry", David Collins and Shane Dundas have appeared on Letterman's Late Show, after James Brown in Woodstock and before the Queen of England. Their unique blend of slapstick and comedy have taken them to stadiums and the Sydney Opera House.
Highly acclaimed and having performed in 37 countries, they finally return to the TIPI AM KANZLERAMT on their travels around the stages of the world. In the best of the worst of the best of their live madness, they set up their own bizarre rules out of pure pleasure, only to break them immediately and brutally, just like everyone else.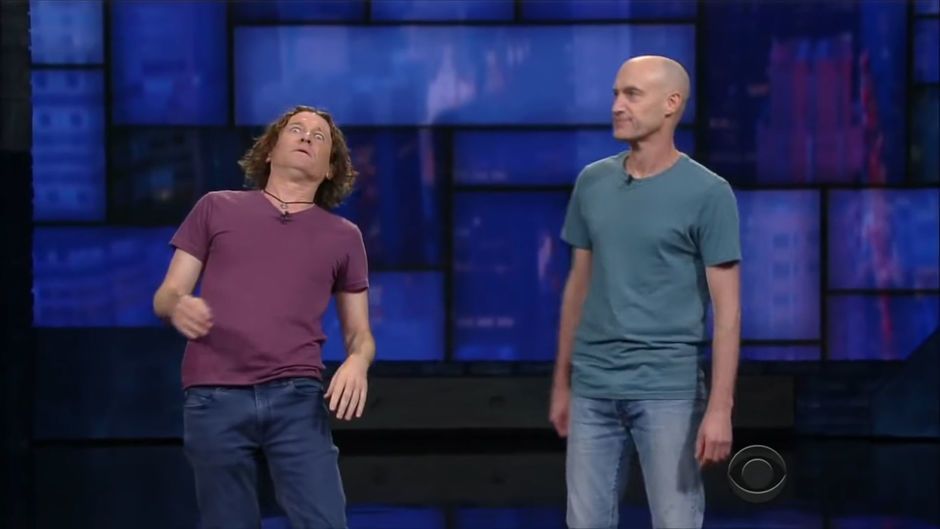 ---
Admission and restaurant opens Monday - Saturday from 6:30 pm / Sundays from 5:30 pm.
You are free to choose your own seating within the relevant price categories. Arriving early ensures a higher availability of seating to choose from.
It is possible to reserve a table if you make a booking to eat. You can book a set menu or other items via our ticket hotline at + 49 30 390 665 50 or at the theater until one day before the performance at the latest.
As changes may occur to the performance schedule at short notice, please check our calendar.
Please note that children are only permitted from the age of 6.
Upon entering the venue, you assign your rights to any sound and image recordings of your person, free of charge and without any spatial restrictions.

prices
From €24,50 to €34,50
Discount €12,50*

There is no advance booking fee at the box office.
*Students may also buy tickets in advance.

reviews
Dazzlingly accurate, scorchingly physical, screamingly funny