TIPI AM KANZLERAMT is not only a great venue for individual guests but can also provide a fantastic evening for groups of any size.
Furthermore you can also book the following packages for your group:
Starter and main dishes will be served before the show. The dessert will be served during the interval. Here you can find our current and future set menus for €29,00 per person.
We can offer you
a discount on ticket prices on group bookings of 15 people or more
individual consultation tailored to your requirements
personal support during the organisation and also during the evening itself

Offers for groups of school pupils & students
You can also book the following for your group
Welcome Reception
Before the start of the show we can arrange a prosecco reception in our foyer or in the beer garden with a fantastic view on both Kanzleramt and Reichstag. Alternatively you might be interested in a mulled wine reception during the cold season. Either reception costs €6,50 per person.
All-You-Can-Drink
With the opening of our doors we will start serving your guests red and white wine of your choice, beer, a selection of soft drinks as well as coffee and tea. Drinks service finishes 30 minutes after the end of the show.
The drinks flat rate costs €33,00 per person (download).
Wine-Selection
As an alternative package to the drinks flat rate you can also choose wines from our exellent wine selection. In this case the selected wines will be served at the table.
Three-course Menu
Starter and main dishes will be served before the show. The dessert will be served during the interval. Here you can find our current and future set menus for €37,00 per person.
and more:
If desired we can also personalise your menu cards with either your company logo or a greeting. We are happy to do so without any further costs for you, just send us your individual template via email.
Exclusive barbecue with a view of the Federal Chancellor's Office
For groups 15 and more
Welcome your guests with a refreshing summer drink on our elevated separate terrace, with lounge area. Appreciate the unhindered view towards the Federal Chancellor's Office while enjoying an exclusive barbecue, and complement the culinary evening with a dessert in the event hall.
Price per person: €45,50
(Further drinks à la carte excluded)
Aperitif options
Prosecco pure or with Aperol, Campari, or orange juice
Lillet Wild Berry (Lillet blanc, Schweppes Wild Berry)
Rosato Mio (Ramazzotti Aperitivo Rosato, Schweppes Wild Berry and Basil)
Hugo (elderberry blossom syrup with Prosecco and mint)
We also serve mineral water and orange juice.
Salads
Colourful lentil salad with fried chorizo
Salad of chickpeas with mango and papaya
Melon & feta cheese salad with mint
Mozzarella with grilled vegetables and tomatoes
Hearty food from the barbecue
Beef sirloin steak marinated with black beer and sage
Herbed bratwurst and merguez
Grilled courgette, aubergine and bell pepper, sour cream with herbs
Crispy chilli & curry chicken drumsticks
Served with varied dips.
Dessert options
Yoghurt terrine with iced cherry soup
Semolina pudding with rhubarb compote
Lemon cream with fig ragout
We serve you the dessert at your table during the break.
Special offer for school pupils & students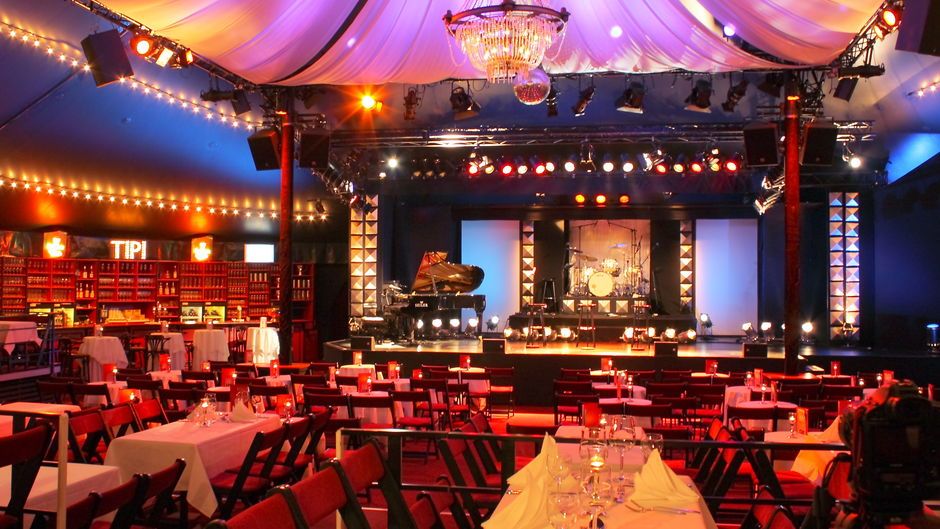 The arrangement for school pupils & students is for groups of 15 or more:
Pasta al pomodoro with Parmesan
As well as one drink of your choice: apple juice, orange juice, rhubarb juice, apple juice spritzer, rhubarb juice spritzer or afri cola
Price per person: €12,00 plus ticket
Example Schedule for Your Evening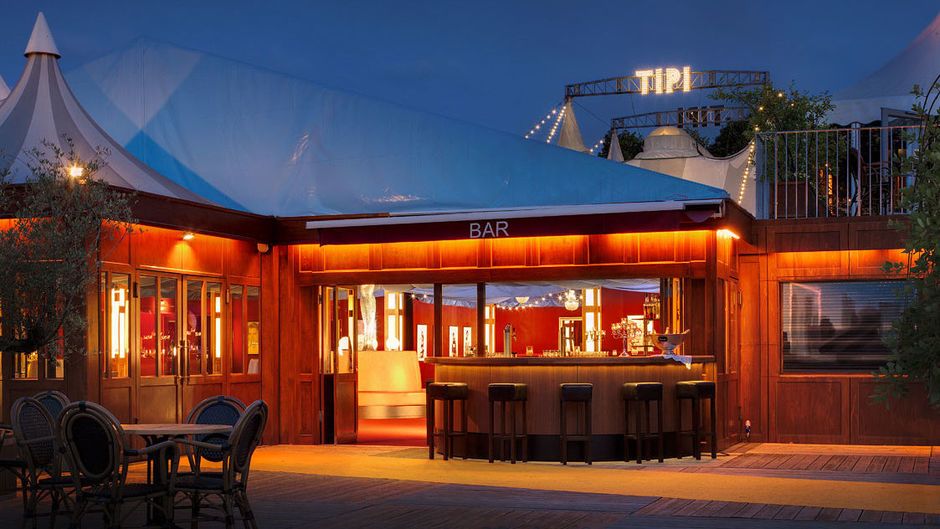 6:15 pm Arrival of guests
Prosecco reception in beer garden or foyer
6:45 pm Take your seats
Start of drinks service
7:00 pm Serving the food
Starter and main dishes will get served before the show commences
8:00 pm Show commences
9:00 pm Interval
Dessert will get served
10:15 - 10:45 pm Show finale
Your group is welcome to stay a little longer and to enjoy the unique atmosphere of TIPI AM KANZLERAMT.
If you choose to book a group evening with us then we will be able to offer you two deadlines before your booking becomes binding. Up until the first deadline you can cancel your booking completely. Up until the second deadline you can change the number of your guests.
There is the option of paying for the tickets, food and drinks via invoice. We will prepare an invoice for you after the second target date. You can also choose wines beforehand and we will lay out your tables with your wine selection. Any extra drinks can be purchased on the night by cash, EC card or credit card.
We look forward to organising your evening with us here at TIPI AM KANZLERAMT and endeavour to personalise and cater to your inidividual wishes. You can contact us from Monday to Friday from 10:00 am to 6:00 pm
Ylva Seemann
Phone: + 49 30 390 665 51
email: gruppen@tipi-am-kanzleramt.de